The best and most creative art classes for kids in the Bay Area. Classes for children, youth, teens and adults too. Drawing classes, painting classes, sculpture classes and more.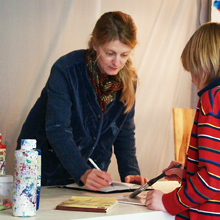 Anita Sulimanovic
Our Founder & Lead Instructor Anita Sulimanovic is an award winning artist and educator with 25+ years experience in the field. Her experience includes teaching at the Edinburgh College of Art in Scotland and at Oakland School For the Arts, and delivering art programs at several other schools including the art school that she had established in US after moving from Europe in 2008. Anita received her degree of Master of Fine Arts (MFA) from Edinburgh College of Art . She also received classical European training in drawing, painting, applied arts, design, art education, art history and a BA in Sculpture from The Academy of Fine Arts, Zagreb. Anita is the creator and designer of "The Planet" award for " BBC World Music Awards ". She has been exhibiting internationally since 1994.
To view Anita's artwork, please visit her
website
.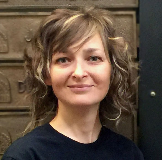 Natallia Pulko
Natallia Pulko is currently teaching our afterschool sculpture classes at Alameda schools through the Alameda Education Foundation. She holds a bachelor's degree in arts from the Belarus Pedagogical State University and is currently working towards an MS in Psychology, with an emphasis on the use of art in therapy.
Natallia is highly skilled in various arts and crafts techniques and has endless amounts of patience in helping our students in creating paper mache, clay and assemblage artworks. She is also part-time faculty at The Crucible, School of Industrial Arts in Oakland, in Leather, Ceramics, Enameling and Cartoneria Departments.