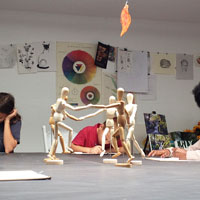 Our Story
Studio 1.6* offers art classes and private lessons with academic value. We teach studio art disciplines – drawing, painting, and sculpture. All classes are held in an active artist's studio. Personalized attention from a professional artist and a curriculum that is individually crafted to each student's interests and goals enhances learning in many ways. Immersing yourself in a creative environment helps you succeed in your artistic endeavors. We provide instruction that is skill-based through historically-proven training methods.
We offer various art classes for young children, youth, and adults, as well as special programs such as art camps, art workshops, life drawing sessions, open studio time and private tutoring and portfolio preparation. Beginners to advanced students are welcome, we provide differentiated classroom environment. Art History is an integral part of our curriculum. We also offer classes for homeschooled children that combine studio art and art history.
* One point six (1.6 or more precisely 1.618…) is a special number, also known as the Golden Ratio. It is a proportion that often appears in art, geometry and architecture. The Golden Ratio is also found in the design and beauty of nature, and has been used by many artists to achieve the same aesthetics in art.